Swift Appraisals
Dallas Area Residential Real Estate Appraisal
Web Design + WordPress CMS + Hosting & Email Setup
I met the owner, Keith while he was appraising my home in Aledo, TX. He was dissatisfied with his current website and web guy. His site was poorly designed, dated, and he was being charged a high monthly fee for hosting and non-existent maintenance. I redesigned his site from the ground up using the WordPress CMS platform. I was able to hook him up with a great hosting service that reduced his cost tremendously. I made sure he owned his site, controlled his domain name, email accounts and hosting so he has complete controll of his online presence. Keith was a great client to work with. See his comments below. Click on the image to go to actual site.
"I could not be more satisfied with Hogan Design. I was in need of an upgrade to my website. Rick provided me with a brand new website that is much more pleasing to the eye, is easy to navigate, and as a result has excellent appeal. Rick held my hand through the whole process, did a thorough job, and answered all my questions and concerns no matter how small or insignificant they might be. In addition, to top it all off, he provided his services at a fair fee!!! If you are in need of a website design services I highly recommend Hogan Design! "
 Healthy Tails Pet Care, PLLC
Mobile Low Cost Pet Vaccination Clinic
Web Design + Branding + Signage + Social Media
Healthy Tails Pet Care was a brand new mobile startup company who would provide low cost pet vaccinations at several different temporary sites. The owner, a veterinarian, needed a logo, complete branding, signage for the mobile clinic, patient forms, prescription labels as well as a website and more. I went to work and produced it all on time and on budget (pro bono – the vet was my wife!) Since going to the vet is a sometimes scary event for pet owners, my concept was to design a branding structure that would convey a light-hearted friendly feel yet retain a strong image of trust. The color scheme and cartoon logo was designed with this in mind. 
Healthy Tails Pet Care Web Site Design and Development
The Healthy Tails Pet Care website served as a portal for customer to learn about services, prices and schedule of the clinics and was designed, developed and maintained by Hogan Design. The website consisted of four pages: Home page main landing area showed customers the next clinic date and location. It also included a schedule of dates and locations for the remainder of the year and current pricing for available services and products. Other pages included a blog page, patient records request form page and an info page informing pet owners exactly what their pets need to be healthy and safe. Hogan Design can create a custom website for your business to any specifications. Contact me today!
Original Logo Design
The logo design is the heart of any branding program. My concept was to come up with a logo that was fun and light hearted, but distinctive and memorable. I drew a cartoon version of our Corgi pup Maddy for the dog and some anonymous orange tabby cat. I used soft pastel colors for their soothing emotional values.
Free standing Yard Sign Design
This type of sign was just about the only advertising to be used for the clinics. There was not a budget for traditional advertising so these were printed and re-used as needed. They were placed in the location of the clinic several days in advance so they had to be noticable. I used brighter contrasting colors to draw attention. Later this same format was used for a freestanding 4 ft. x 8 ft. A-frame banner sign.
Six Panel Preventative Pet Health Protocols Brochure
This little two-fold six panel brochure was produced as a print version and an online downloadable PDF on the website. It showed customers what their dog or cat needs for proper care and protection from parasites and diseases. I used original illustrations and photography as well as one or two stock images.
Advertisement Sign
This was a sign used to advertise a promotional product at the clinics. I designed it to be printed on a desktop color printer and held in a frame that could be laid on a table top.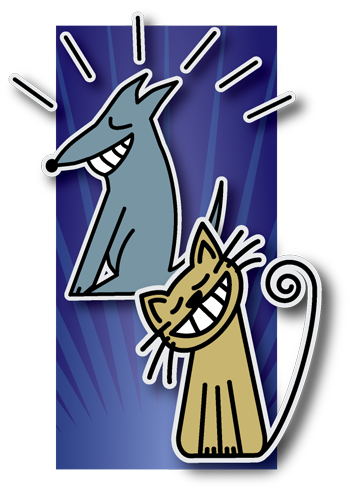 Original Dog & Cat Illustrations
I designed these illustrations as light hearted cartoons to accent and add interest to the website and brochures. Again I think it's important to help pet owners feel more comfortable by using happy images where ever possible.
A-Frame Free Standing Pricing Sign
This was a large four foot tall A-frame sign used at each clinic to clearly show customers the services and pricing available. I chose a color pallet that was complimentary yet soothing. Each category is clearly differentiated to lessen confusion for the customer.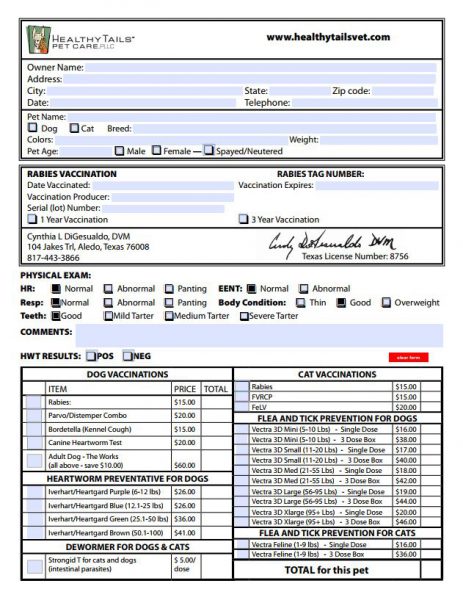 Patient Form/Rabies Vaccination Receipt
This is a form to be used in the field at clinics. A laptop and printer was required. I designed the main document and then added custom form fields that the tech could fill out on a laptop. Then the document could be printed and given to the customer immediately after their pet was treated. This also acted as a proof of service and rabies certificate.
Rick created everything for my low cost pet vaccination business. This included logo, website, signs, banners, forms, information brochures, everything. Everything looked great. I especially loved my logo. He had everything completed quickly and was very easy to get in touch with when I needed something. I will use him for all future projects I may have.
Social Media & Email Marketing
One of the most important aspects of a good marketing campaign in the age of the internet is social media and Email marketing. Just having a website alone is not good enough. Hogan Design can help you maintain a good social media presence. I can also help with email marketing for your business. I made it a priority for Healthy Tails Pet Care clinics to regularly post images and real time info on clinic activity on Facebook including call to action push notifications to Facebook followers.